Upcoming events, adoptions & fundraising...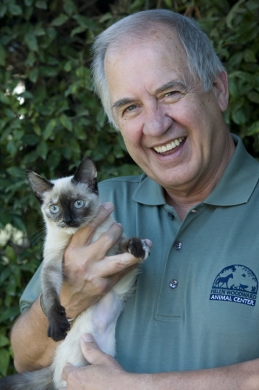 THE BUSINESS OF SAVING LIVES
BROADENS
IT'S REACH TO THE GULF COAST

Helen Woodward Animal Center's Animal Welfare Training Is Set to Address the Gulf Coast and Surrounding Area's

Orphaned Animals…
After attending an awe inspiring 3-day workshop at the Helen Woodward Animal Care Center (HWAC) in California, the founder and director of the Stray Love Foundation, Gayle Guthrie, was passionate about sharing all that she learned. Guthrie highlighted the experience:
"Compassion fatigue is not uncommon in rescue and shelter work but after attending this workshop I was re-energized

and so enthusiastic about implementing all that I had learned to help more animals. I just wished everyone I knew

had been able to attend as well.
Then I found out that I could apply for a one-day workshop where HWAC team would come to us! I knew many applied
and chances to be selected would be slim so my request would need to be a compelling one. In my application I stated
the very sad state of stray cats and dogs along the Gulf Coast, and the even sadder fact that so many suffer and/or are
being euthanized. But there are an amazing number of motivated people in our area who want to turn this around…
who want to help! They just need guidance, motivation and to learn these proven, effective programs. Well, as you can
imagine, I was elated when I was contacted and told that we were chosen for the workshop."
As a result, the Helen Woodward Animal Center (HWAC) announced that its internationally-acclaimed Business of Saving Lives one-day workshop on February 1st, 2020 in Orange Beach, Alabama will provide regional animal rescue organizations and shelters brand new ways to look at animal welfare, humane education, fundraising, public relations, social media and networking. They will explore how these concepts can breathe life into our adoption programs that are outdated and killing millions of domestic animals annually.
The upcoming workshop will include an informative session with Helen Woodward Animal Center President and CEO Mike Arms targeted at adapting policies to meet the changing needs of the animals in the Gulf Coast area, along with sessions taught by Center Management experts who will provide information on concrete and proven fundraising methods; creative, out-of-the-box public relations techniques; and social media best practices.
"The only way to change the world of animal welfare is to work together,'" said Arms. "We are honored to join with The Stray Love Foundation and attending guests from shelters and rescues throughout the Gulf Coast to discuss ways to continue working towards a more humane world."
February 1st, 2020
Luna's, 25753 Canal Rd.



Orange Beach, Alabama - Magnolia Room
Breakfast & Lunch Provided
$10 donation
Reserve your seat now.
Mike Arms, Helen Woodward Animal Center President and CEO will meet with city officials, politicians and city leaders the afternoon before the workshop, January 30th from 3pm to 5pm at a separate location. If you or someone you know would be interested in attending this interactive and informative meeting on why humane animal care and compassion benefits not only the animals but our communities as well, please email us at info@straylovefoundation.org to reserve your seat.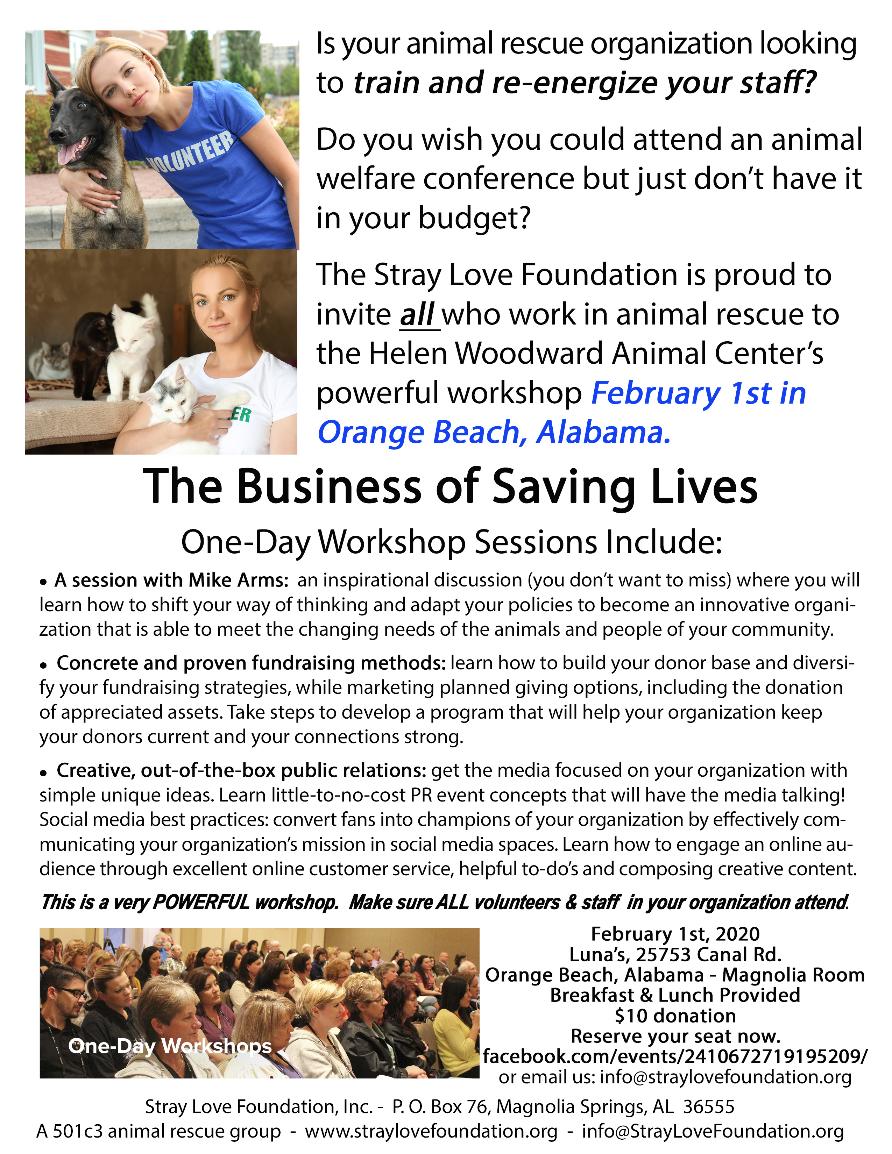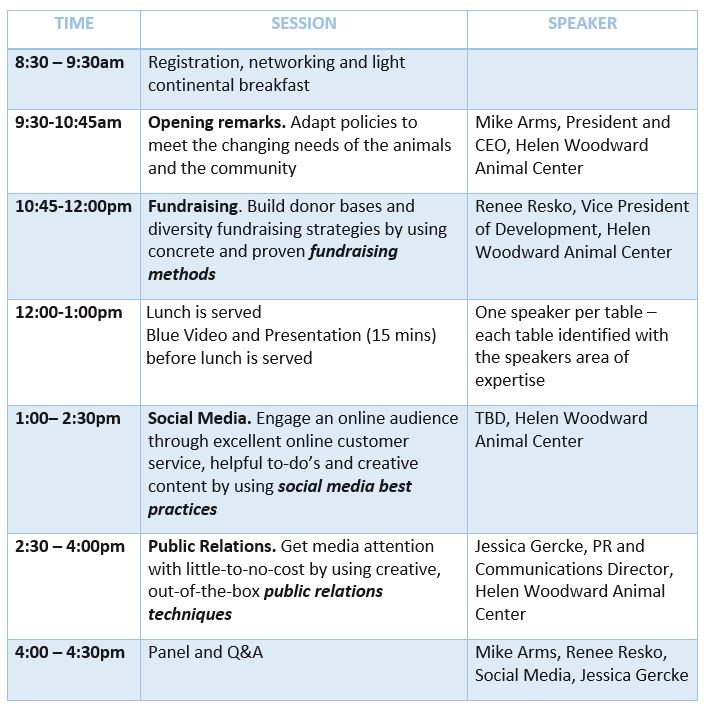 "PetSmart Cat Windows"
EVERY DAY!
STOP BY PETSMART IN FOLEY ALABAMA ANY DAY TO VISIT SOME OF OUR ADOPTABLE CATS/KITTENS IN THE KITTY WINDOWS.
YOU CAN ALSO SCAN OUR QR CODE DISPLAYED THERE TO SEE ALL OF
THE RESCUE ANIMALS WE HAVE FOR UP ADOPTION ON PETFINDER
______________________________________________
"PetSmart Adoptions"
(volunteers/fosters needed!)
ON SELECT SATURDAYS PETSMART IN FOLEY, ALABAMA
FROM 12 Noon To 3PM
UPCOMING ADOPTIONS: PETSMART Adoptions in Foley, Alabama

February 8th, 28th & 29th
April 18th & May 2nd

______________________________________________
"Adoption Days at the Magnolia Springs Library"
EVERY THURSDAY ONE OR TWO CATS/KITTENS WILL VISIT THE MAGNOLIA SPRINGS, ALABAMA PUBLIC LIBRARY
FROM 12 NOON TO 5 PM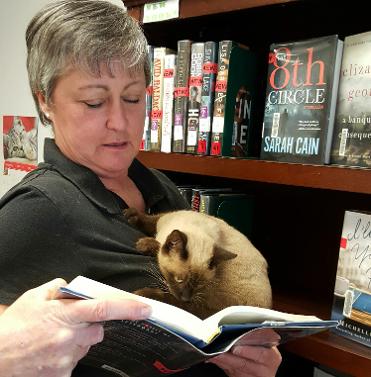 Exercise Classes
Meet 1, 2, 3 or maybe even 4 of our adoptables and get your exercise in too.
For over 9 years our director has been teaching an exercise class every Monday, Wednesday & Friday at the Magnolia Springs, Alabama Community Hall
(across from Jesse's Restaurant).

All proceeds from the class are tax deductible donations to the foundation.
The class is a combination of yoga, pilates, basic weight training and mat exercises. Class is for all ages but be sure to check with your doctor before starting a new exercise regimen.